Index:
How to block unwanted numbers on Android
How to block unwanted numbers on iPhone
How to block unwanted numbers via the App
How to block unwanted numbers from landlines
How to block unwanted numbers on Android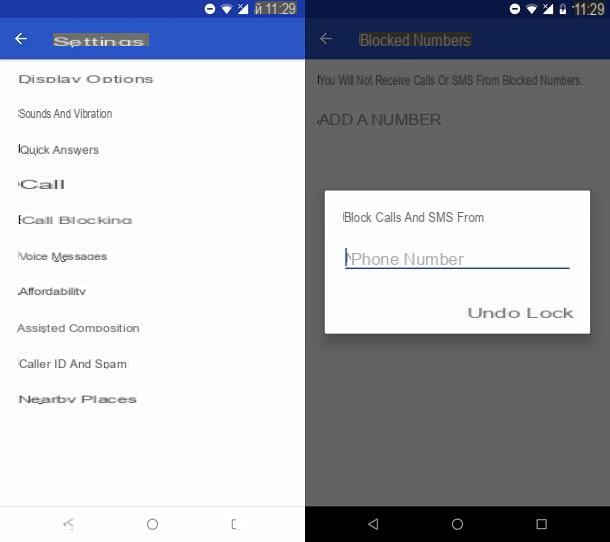 On Android smartphones, it is possible to block calls received from an unwanted number through various procedures that touch the device settings. The procedure that I am going to indicate, however, is not necessarily the same on all Android smartphones, as there are now several smartphone manufacturers that customize the Google operating system, adding, removing, moving or adapting some features. So I make this tutorial by examining a device with an Android operating system, version 8 (Oreo).
The first method I recommend you use is the one related to using the default call blocking setting. You can reach it by opening the native app to make calls (telephone handset icon); now, tap on three dots symbol (...) posto in alto a destra and selects the voice Settings. Among the many options that appear on the screen, you will have to select the one indicating the wording Call barring. Then tap on it and then tap on the item Add a number. Then type the phone number of the person you want to block in the text field Phone Number and then tap the button Block.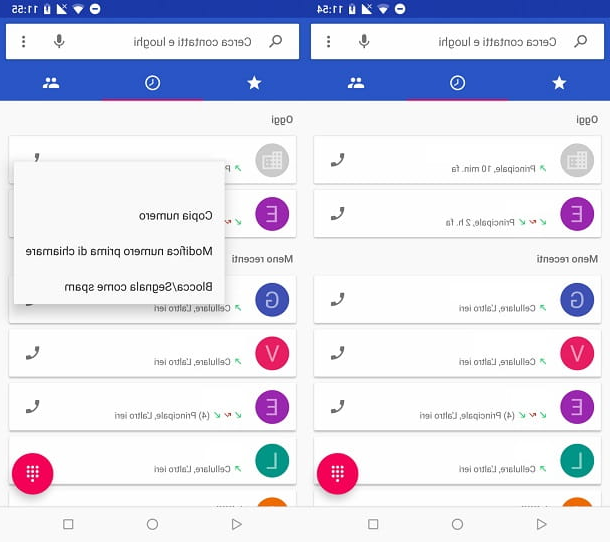 Another even simpler method that allows you to block an unwanted number requires you to act through the history of calls made / received. To take advantage of this other call blocking method, tap ontelephone handset icon and select the call history tab (symbol of a clock). Now scroll down the list until you find the contact you want to block and hold your finger on it, until a context menu appears. Then tap on Block / Report spam to be able to block the unwanted phone number.
There is also the possibility of diverting a particular telephone number to the answering machine. However, this procedure that I am about to illustrate is reserved for contacts in the address book. Consequently, if you want to apply this method on an unknown number, you will need to save it in the phonebook first.
Then open the app Contacts and scroll down the list until you find the user on whom you want to activate call forwarding. Tap on it and then tap on three dots symbol (...) at the top right. From the context menu that will appear, select the item Address to the secretariat. From now on that user, when he tries to call you, will be directed directly to the answering machine set on your phone number.

How to block unwanted numbers on iPhone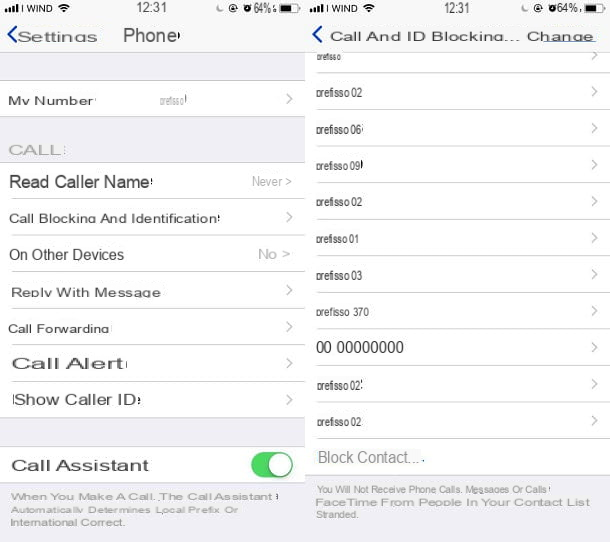 If you want to act as an Apple smartphone, and therefore from an iPhone, know that you can decide to block a single phone number or directly a contact, which may however have associated one or more numbers. This is to use a very effective native option: from phone numbers blocked by default, you will not receive any calls, SMS or FaceTime conversations. So let's proceed in order, talking about the first method, that is the block of the single numbering.
To block a number not in your contact list, tap the telephone handset symbol. Now select the recent tab, through theclock icon that you find in the bar below. Scroll through the list until you find the number to block and tap on information symbol (i) which is next to it. Continue to scroll through the items that are presented to you on the screen and tap on the one named Block contact. At the notification that appears, tap again on Block contact to confirm the inclusion in the blacklist.
If, on the other hand, you want to block a number in the contact list, you can also proceed with a different method. Reach the Home Screen of your iPhone and tap on the app Settings (icona di an ingranaggio). Scroll through the list until you find the entry Telephone, on which you will have to tap above. Then tap on the item Call blocking and identification and then Block contact. In the new screen that will appear, you will have to select the contact you want to block, in order to insert it in the blacklist. By blocking the contact, you will automatically block incoming calls from all numbers associated with it.

How to block unwanted numbers via the App
Depending on your actual needs, your smartphone's default lock feature may not fully satisfy your needs. For example, you may need an application that can block incoming calls from anonymous numbers, or this is a situation where you would like to view the call ID to figure out who is calling you. In case it were situations similar to those listed above, know that in the Android and iOS digital stores there are some apps that can be for you. So I list below some apps that I recommend you download and install on your smartphone.
Truecaller (Android/iOS): quest'app free it is one of the most used since it has a very large community of users. It is thanks to the latter that its database is updated every day and there is a large list of potentially unwanted numbers. Among its most important features is that of displaying the ID of a number, through the labels suggested by the community, and that of blocking calls.
Hiya Caller ID and Block (Android / iOS): Like Truecaller, Hiya is an app that has a huge database of telephone numbers. The app allows you to identify the incoming call and label it in the appropriate way, i.e. spam, fraudulent or telemarketing. You will then be able to block all unwanted numbers easily, without difficulty.
Mr. Number-Block calls & spam (Android / iOS): developed by Hiya, the same as Hiya Caller ID, this application free blocks calls and SMS from unwanted numbers. It can count on a database that identifies the calls received.
Calls Blacklist (Android): it's an app free which does not rely on any online database for the display and identification of a call. If a number bothers you, you can create a blacklist and place it in the list of numbers you want to block. You can also decide to set a time slot and the specific days on which you want to activate the block.
How to block unwanted numbers from landlines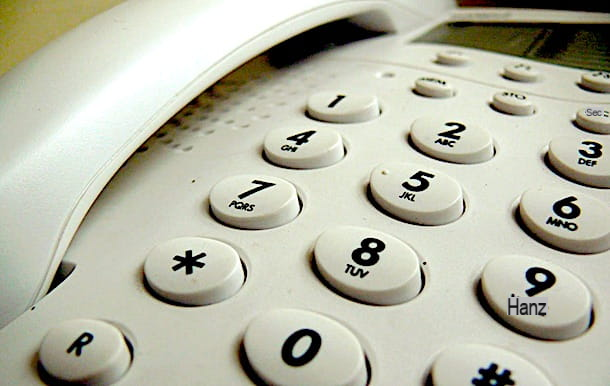 The new generation fixed telephones (but also the slightly older ones), both cordless and fixed, have the functionality of blocking incoming calls. Of course, not everyone has it, but now many of them have this important feature.
Unfortunately, however, there is no general procedure to be carried out to block calls from landlines; each model and brand of phone differs from the other. What I advise you to do is to take the instruction manual of your device and check if this feature is present.
If you no longer have the instruction manual, you may be looking for information on the internet. You can find information about the model and brand on the device itself or, in the case of a cordless phone, on the charging base. Then enter this data on your favorite search engine, such as Google, and access the manufacturer's website or go to sites where they describe its technical characteristics. If you do not succeed with this search, try adding, in addition to the model and brand, the generic wording Call blocking o Call blocking, to see if you have a positive match in the search results.
If your device does not have any call blocking function, you can think of contacting your telephone operator, through Customer Service, who will proceed to block the number that bothers you. However, I do not guarantee that the service is free or paid; then inquire with the customer service operator of your telephone operator.
If so, you can check out these guides below to find out how to contact your manager.
TIM- How can I speak to a TIM operator
Vodafone- How to talk to a Vodafone operator
Fastweb- How to talk to Fastweb operator
Infostrada- How to talk to Wind operator
Alternatively, you can fill in and submit for free the form made available by the Public Register of Oppositions, sponsored by the Ministry of Economic Development. This service has the purpose of protecting the citizen, allowing him to remove his telephone number from the lists of telephone marketing operators, in order to stop receiving calls for commercial purposes or for market research.
How to block unwanted numbers