How to block anonymous calls on Android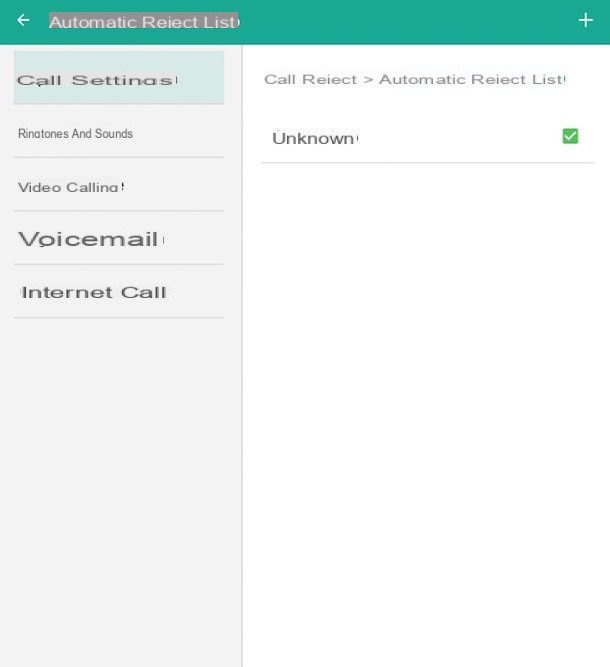 If you have an Android smartphone or an Android tablet equipped with a SIM compartment and would like to block anonymous calls, you have two possible solutions: take advantage of the call blocking feature already integrated on your device or use the installation of special apps.
However, I inform you that not all Android devices have a native call blocking feature. Also, depending on the device model and manufacturer brand, the process for activating this native functionality may differ. Therefore, in this second part of my guide I will focus on reporting those apps that you can install on your device to allow you to block incoming anonymous calls. Then consult the manual of your device to check if a native call filtering feature is present by default.

App to block anonymous calls on Android
Calls Blacklist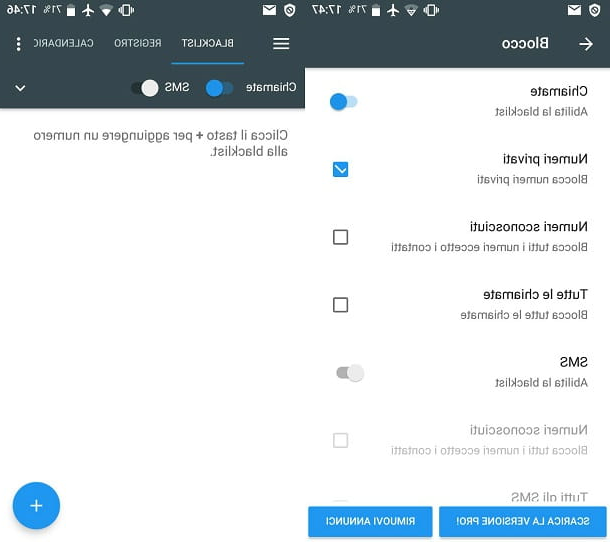 If you want to install an app to block anonymous calls on Android, I suggest you use Calls Blacklist. It is indeed an application free which will allow you to filter incoming calls, making the line appear busy to those who call using anonymous.
If you are interested in this application and want to install it on your device, the first thing you will need to do is to download it through the Play Store. Then tap the button apri, in order to start the application. As soon as you start it, a message will appear asking you for permissions to manage calls, SMS and your contacts. Then tap on Continuation and then Allow for three times.
By default, you will see that the lock is automatically active on Call, while the blocking of SMS is disabled (horizontal bar at the top). You can change this choice by moving the relative levers from left to right. Since your goal is to block calls from anonymous, make sure that call filtering is enabled.
Now tap on symbol with three dots, located at the top right and tap on the item Settings, from the context menu that just opened to you. In this new screen that will appear, tap on the item Block, marked with a prohibition symbol, so you can view all the settings on blocking calls and SMS.
Make sure it is close to the item Call, the lever is blue; otherwise, move it from left to right. Now put a check mark in the box Private numbers, so you can block all anonymous numbers that try to contact you.
If you have carried out this procedure that I have indicated to you, Calls Blacklist is now perfectly configured to reject all calls coming from anonymous, that is, from private numbers. Blocking will ensure that the user who is calling you can hear the busy signal, while instead you will receive a simple notification on your device that will indicate a blocked call attempt by an unknown number.
In case you want to disable this block, you can disable the Calls Blacklist incoming call filter. To do this, just tap on symbol with the three points, reach the Settings, then tap on Block and finally disable the check mark from Private numbers. To instead want to disable each block, always in this section, move the lever from right to left near the item Call, so as to completely disable the filter.

How to block anonymous calls on iPhone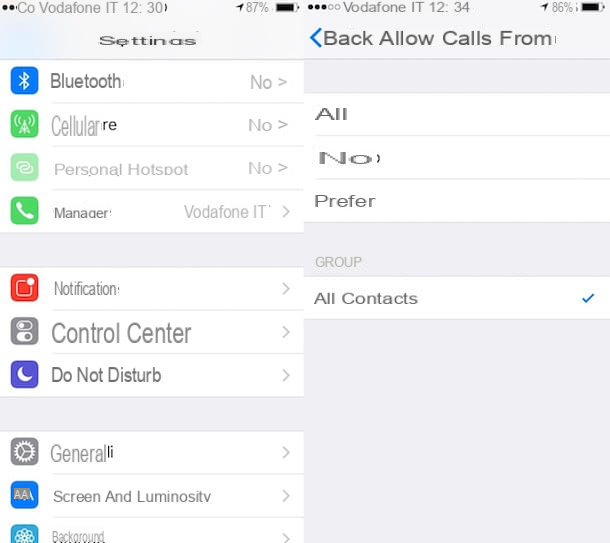 If you own a iPhone and you need to block anonymous calls that you continuously receive, you will surely be happy to know that to perform this operation you will not need to install any application on your device. In fact, to block anonymous calls on iPhone you will only need to take advantage of a feature that is included within the iOS system, the operating system for Apple's portable devices.
To achieve your goal, you will therefore need to use the native functionality of iOS, called Do not disturb. If you are not aware of it, know that generically this feature has the aim of setting a silent mode on your iOS device, blocking both calls and any notifications you may receive at specific times of the day (or in general, in the interval of time set by the user).
The first thing you will need to do to block anonymous calls is to tap on Settings (icon with gear symbol) that you will find on the screen Home of your device. Subsequently, from the menu that is presented to you, you will have to select the item Do not disturb and move the lever from left to right near the item Do not disturb.
Now you will have to decide whether to set this mode manually or through a programming of an end and start time. To set the manual mode, you will need to move the lever from right to left near the item Scheduled, so that the lever becomes white. If you want to set a schedule instead, move the lever from left to right on the item Scheduled. Now set a start and end time for this mode by tapping on Start end.
You will also have to decide if you want this mode to be active only when the screen is locked (tap on the item While the iPhone is locked) or in any condition (tap on Everlasting).
Once this is done, tap on the item Allow calls from and then tap on the item All contacts. In this way, all the contacts you have in your address book will have the possibility of being able to contact even if in mode Do not disturb; for anonymous contacts or for those not present in your contacts you will not receive any call notification. To confirm the changes you just set, tap the button <Indietro, located at the top left of the screen.
To realize if the procedure you just carried out has been successful, you will need to be able to see at the top right of the screen, aicon with a half moon. This icon indicates that the mode Do not disturb is active correctly on your device and that, therefore, incoming calls and notifications will be filtered. Obviously, if you have programmed it to work at a specific time, you will see the half moon icon only and only when you are actually in that time interval specified by you.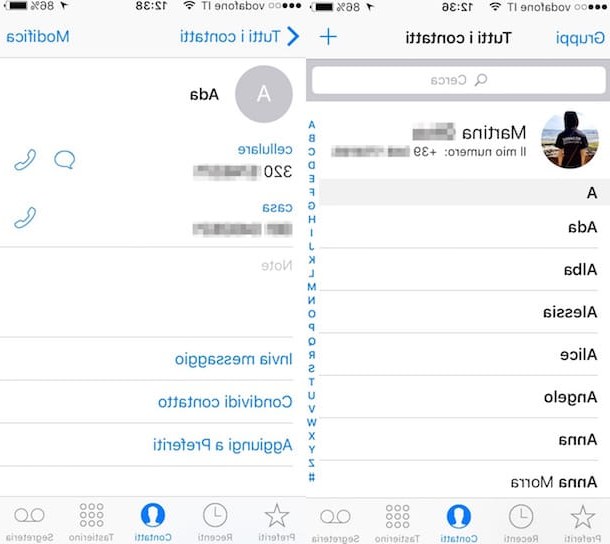 If, on the other hand, you want to be a little more restrictive and want to allow calls from only some specific contacts in your address book, you will need to set that contact as a favorite. To do this, just tap on the item Add to Wishlist, which you will find by tapping on Allow calls from.
For this filter to work, you will need to have set at least one or more contacts as favorites. To do this. tap on the app icon Telephone, which you will find in the home of your device, and then you will have to tap on the item Contacts placed at the bottom. Now tap on the contact you want to add to the list of favorites and then tap on the item Add to Favorites. If more than one telephone number is associated with a specific contact, remember to specify which of those listed you wish to add to your favorites.
Please note that if you want to disable the function Do not disturb, you can do it at any time. To do this, you simply have to tap the icon again Settings from your Home and then tap on Do not disturb and move the lever located next to the item from right to left Do not disturb.
Other apps to block anonymous calls on Android
To block anonymous calls on Android, there are so many apps. Here I will show you a list with some apps that I recommend you download to your device in order to achieve your goal.
Call blocking and SMS blocking (Android) - is an app that allows you to create time intervals to activate Do Not Disturb mode on your Android device. It will allow you to block private numbers that call anonymously, as well as lots of call and SMS blocks.
Call blocking (Android) - this app is very useful, like Calls Blacklist. You can create black lists and white lists to filter your incoming calls or simply block only calls from private numbers.
Caller ID and DU Caller Block (Android) - is an application that aims to show the ID of the incoming call, even though that number is not among your contacts. If the incoming number is from an advertising call center service, you will receive an on-screen notification. You can then set your filters to block incoming calls, including those from private numbers.
How to block anonymous calls