How to Block Incoming Anonymous Calls on Android (Native Feature)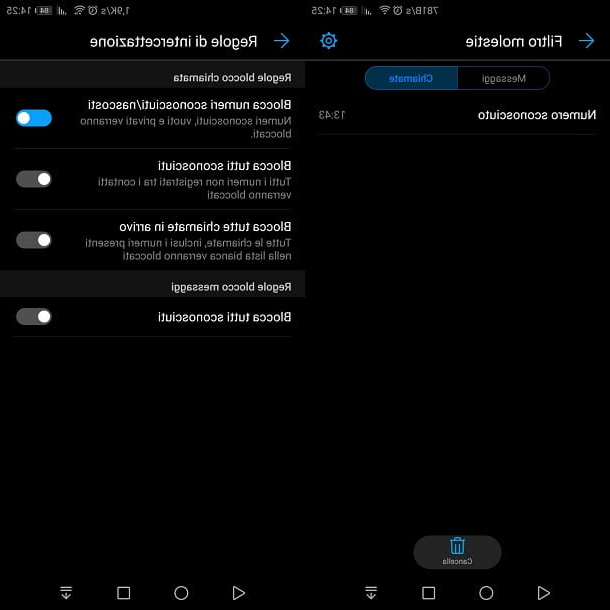 While not all mobile devices running Android are equipped with a basic functionality for blocking unwanted incoming calls, it should be mentioned. Some devices, in fact, have this native functionality, so as not to require the installation of any application.
As I explained to you, however, your Android device does not necessarily have this feature: you will therefore have to check its manual or through a web search on Google or another similar search engine.
However, since this functionality, if present, is not the same for all devices, I will limit myself to indicating, just by way of example, the procedure to be carried out to block unwanted calls based on a device I own: a Huawei smartphone.
The first step is to open the application to make calls on your smartphone. You will then need to open the app Telephone, using the icon with the symbol of a handset. Once opened, you will be shown the number pad to dial phone numbers. Then tap on the icon with the three dots symbol [...] and, from the context menu, you will have to choose the item Harassment filter.
A window will then open that will contain all the calls and SMS that have been blocked through this feature. If this is your first time running it, the list will obviously be empty.
Tap the icon with the symbol of a gear, which you can find at the top right. After the configuration panel opens, tap on the item Interception rulesby moving the lever next to the item from left to right Block unknown / hidden numbers.
In the Numbers blocked, you can instead add phone numbers manually, from the call log or you can add a number to your contacts.
By activating this filter, every time you receive a phone call from an unknown, anonymous or simply annoying number, it will be blocked. The phone will react with a simple notification, without being shown the incoming call.

How to Block Incoming Anonymous Calls on iPhone (Native Feature)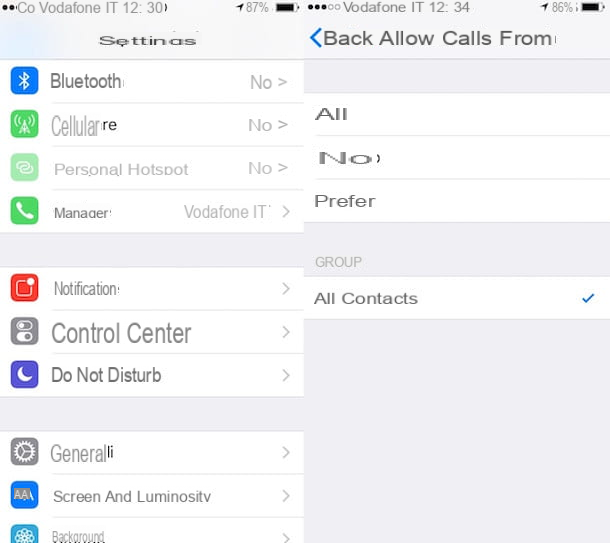 If the device you own is an Apple smartphone, you can block unwanted incoming calls through the native functionality Do not disturb.
This feature is intended to block all incoming calls, SMS and FaceTime conversations. You can set a predefined time interval for automatic rejection of unwanted calls or leave it on for the whole day.
So if you are interested in using this feature on your iPhone, you will first need to reach the section Settings in your device, by tapping ongear symbol icon, that you find in the Homescreen. You will then have to tap on the item Do not disturb and enable the function Do not disturb by moving its toggle from OFF a ON (from left to right).
Next, you will have to choose whether to activate this feature manually. If you want to do so, you will have to disable the entry Scheduled. If, on the other hand, you want to indicate a well-defined time interval, leave the item active Scheduled and then tap on the item Start end and set a start and end time.
Then set whether this feature should always remain active or only when the screen is locked (While the iPhone is locked).
Now you need to set the call filter rule: tap on the item Allow calls from and choose the item All contacts. By doing so, all the contacts who are regularly registered in your address book will be able to call you without the filter intervening on them. All other calls, on the other hand, will be blocked, so as not to disturb you anymore.
You can check if at the moment the mode Do not disturb is active on your iPhone, by returning to the Homescreen of your device and verifying that there is an icon with the symbol of a half moon, in the upper right area of ​​the screen. If present, it means that the filter is currently active, while if not present it means that you have to wait for the time you set during the configuration phase.

How to block unwanted numbers via the App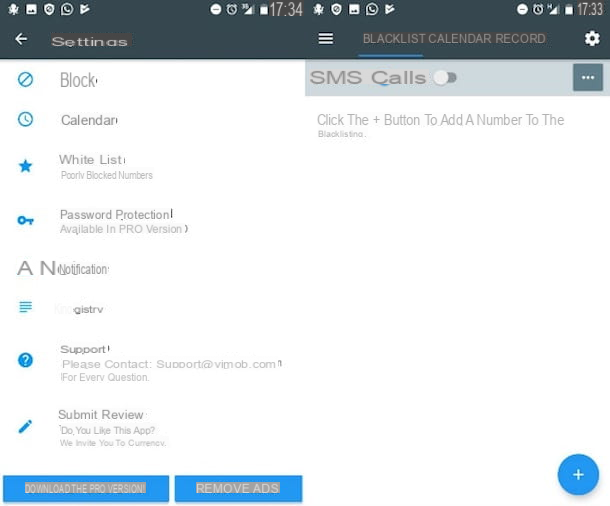 When native applications don't meet all of your needs, third-party applications do. These applications offer the possibility to extend the services of native apps, adding some features that can improve the user experience.
In the following lines, I will tell you about some applications that I can do for you, in order to block unwanted calls on your mobile device. I am sure that among all those proposals, there will be some that may be right for you.
Calls Blacklist (Android) - If your Android device does not have a native feature for blocking unwanted calls, then you will have to rely on a third party: in this case I recommend you Calls Blacklist. Quest'app free allows you to create blacklists to add phone numbers that disturb you, also setting a schedule that works at specific times and days.
Truecaller (Android / iOS) - Similar to the previous app that I presented to you, it allows you to extend these features with an extra service: you can in fact view the ID of the calls you receive, thus being able to realize if the caller is a small number reliable. This app is downloadable for freeon both Android and iOS devices. The call ID is displayed thanks to a database of numbers that is continuously updated.
Hiya Caller ID and Block (Android/iOS) – Quest'app freeit is very similar to the one I presented to you earlier. The operation is in fact very similar: it also has a vast database of telephone numbers and this has the purpose of displaying the ID of incoming calls, in order to have an idea if the number that is calling could be potentially unwanted.
Number-Block calls & spam (Android / iOS) - This application is freeand, as for the previous ones, it allows you to set blocks on incoming calls and SMS. You will also be able to view the ID of calls you receive from numbers not in your address book.
How to block unwanted numbers from landlines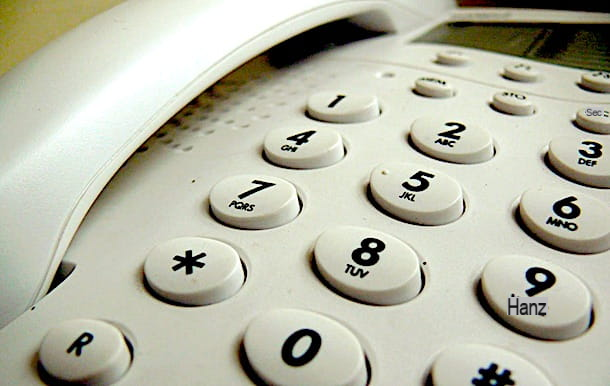 With regard to fixed telephony, it is possible to block unwanted calls both through your device and by checking the possibility of activating a specific service, if the latter is offered by your telephone operator.
As for the first case, the blocking of unwanted calls can take place directly from the device if it is equipped with the functionality. However, not all landline telephony devices have this functionality. Furthermore, if present, the configuration procedure may differ from device to device, especially varying from brand to brand.
In these cases, however, I can still give you a suggestion: you can check if a call blocking feature is present on your telephone device, by reading directly in the user manual of your device or by searching the web: enter the brand and model and try to do a search.
In the event that your device does not have this feature, you can then decide to replace it with a more modern one or to contact the Customer Service of your telephone operator and check if they can help you with the problem you are experiencing.
However, before requesting activation of the service for blocking unwanted calls, I advise you to speak with the operator regarding any activation costs. Then check that a call blocking service can be activated on your phone number and what its cost, if any, to avoid nasty surprises.
You can contact the Customer Service of your landline operator in various ways for which I refer you to the guides below.
TIM - How can I speak to a TIM operator
Vodafone - How to talk to a Vodafone operator
Fastweb - How to talk to Fastweb operator
Infostrada - How to talk to Wind operator
In the event that the unwanted calls received by you are of the telephone marketing type, you can decide to be removed from the lists through the Public Register of Oppositions.
This service is a great solution Free: it is a form that must be completed and sent and which will allow you to remove your telephone number from the lists of telemarketers, so that you will no longer be contacted for commercial purposes or market research.
How to block unwanted calls